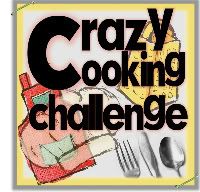 The Crazy Cooking Challenge is a monthly blog posting that links up over 100 food blogs all searching for a great recipe in another blog. This month's challenge is the chocolate chip cookie. If you click on the Crazy Cooking Challenge button above you can peruse all the participating blogs and maybe you'll find a new recipe or two... or three. Of course, give mine a try. I think it's divine.
One last thing...
Comment, comment, comment. Bloggers love to hear what you think of their recipes and their blogs. (Is that a hint? YES! I love your comments!) And, at the end of the challenge we'll all have an opportunity to vote on the "best" chocolate chip cookie recipe. (Another not so subtle hint!)
I am very excited to be participating in this month's Crazy Cooking Challenge. The "challenge" this month is to find the best chocolate chip cookie out there in the big, giant blogosphere. Sounds simple? Not so much.
We've talked about what is the "best" in the past. Is there a best chocolate chip cookie? I'm not sure but this recipe from Jacques Torres and
Daily Salt
could be pretty close to perfection. Bittersweet chocolate and sea salt combine to make this one delicious and sophisticated cookie. This is no Chips Ahoy knockoff. This is a chocolate chip cookie on steroids, French steroids.
To be fair, I went looking for this recipe. I had seen it several years ago in the
New York Times
and had made it just once. But it stuck with me. It was that good. It didn't surprise me at all that one of my favorite blogs,
:: Salt
had featured this recipe several years back. We "food professionals" think alike.
The key to success is refrigerating the cookie dough overnight
and then scooping the dough out and sprinkling it with sea salt before baking it.
I am going to ask you to do two things. First of all, you should make these cookies. And, second of all, you should take a look at
:: Salt.
You'll be glad you did.
Recipe: Chocolate Chip Cookies
(New York Times, July 9, 2008. Adapted from Jacques Torres)

* Note: You can substitute the same amount of all-purpose flour.
Ingredients:
2 cups minus 2 tablespoons
(8 1/2 ounces) cake flour
1 2/3 cups (8 1/2 ounces) bread flour
1 1/4 teaspoons baking soda
1 1/2 teaspoons baking powder
1 1/2 teaspoons coarse salt
2 1/2 sticks (1 1/4 cups) unsalted butter
1 1/4 cups (10 ounces) light brown sugar
1 cup plus 2 tablespoons (8 ounces) granulated sugar
2 large eggs
2 teaspoons natural vanilla extract
1 1/4 pounds bittersweet chocolate disks or fèves, at least 60 percent cacao content
Sea salt.
Directions:
Sift flours, baking soda, baking powder and salt into a bowl. Set aside.

Using a mixer fitted with paddle attachment, cream butter and sugars together until very light, about 5 minutes. Add eggs, one at a time, mixing well after each addition. Stir in the vanilla. Reduce speed to low, add dry ingredients and mix until just combined, 5 to 10 seconds. Drop chocolate pieces in and incorporate them without breaking them. Press plastic wrap against dough and refrigerate for 24 to 36 hours. Dough may be used in batches, and can be refrigerated for up to 72 hours.


When ready to bake, preheat oven to 350 degrees. Line a baking sheet with parchment paper or a nonstick baking mat. Set aside.
Scoop 6 3 1/2-ounce mounds of dough (the size of generous golf balls) onto baking sheet, making sure to turn horizontally any chocolate pieces that are poking up; it will make for a more attractive cookie. Sprinkle lightly with sea salt and bake until golden brown but still soft, 18 to 20 minutes. Transfer sheet to a wire rack for 10 minutes, then slip cookies onto another rack to cool a bit more. Repeat with remaining dough, or reserve dough, refrigerated, for baking remaining batches the next day. Eat warm, with a big napkin.

Yield: 1 1/2 dozen 5-inch cookies.